I started off the year incredibly motivated and dedicated to running. My friend, Leigh, recruited me to join her for the Run the Year 2016 challenge, and I had just discovered the Hogwarts Running Club. The newness of both of these discoveries coupled with my competitive nature led me to log 96 miles in January and 97 miles in February, but now I'm slowly losing motivation to rack up the miles.
I really felt this lack of motivation Saturday morning when I was making my way to a 5K race at a local university. I don't know why I was so grumpy about running it, but I wanted to do anything except put on my shoes and run. The temperature was perfect. It was raining, but not enough to waterlog you. There weren't that many people running it. And best of all, there were no costumes or tutus to navigate around! Truthfully, the only reason I was running it was because I had promised Nancy, my weekly running partner, that I would run it with her and her dog.
I mustered the energy to get my butt in gear and show up. I got my race bib and spoke to my running partner's husband, who was only there to hand off Sophie (the puppy) to Nancy once we exited the track. There was a mixed bag of participants. I daresay faculty outnumbered the students. There was no pomp and circumstance. No fancy medals or timing chips or even gun to signal the start of the race. Just a hundred or so people grumbling about the rain and ready to run.
We took off around the track, exited the "no dogs allowed" zone, picked up Sophie, and took off around the campus. And we were rolling. The first mile was done in less than 9 minutes, which is unheard of for me. I was having trouble keeping up and keeping the conversation going, but my inner competitive voice was telling me to put one foot in front of the other and not worry about how fast my heart was beating or how thirsty I was.
Mile 2 was even faster. I truly can't even comprehend how I was running that quickly. I mean I have short legs. By the end of the race, we were turning the corner of the track (we handed Sophie back off) both huffing and puffing when we saw the clock. It had just crossed over 26:15. Nancy and I both looked at each other and said "We have to get under 27." This is when I thought my heart was going to explode. We took off and finished at 26:41. Let's just say that again. Three point one miles in 26 minutes and 41 seconds.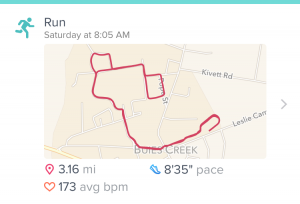 I still cannot believe I ran that quickly, especially being so unmotivated start with. It's making me question whether I am purposefully setting my goals low and underestimating myself. I say that because my overall 5K goal has been to break 30 minutes. Now I'm wondering if I can break 25 minutes. If I keep that pace up, I would totally demolish my half-marathon goal of breaking 2 hours next weekend…but I don't think that will happen. Not yet.
I would also like to point out that when I ran my first 5K in October 2014, I ran it in 34:29. Meaning I have cut off 8 minutes off my running pace time. Meaning I can run 4 miles now in the time it used to take me to run 3. Self-improvement is such a cool thing.
Up next: Rock'n'Roll Raleigh Half-Marathon